Conscious travel gives us the privilage to see the world and be inspired but equally important is the exchange of positive influence, and the gift to inspire the people we meet and leave behind.
Being a big fan of female empowerment I was excited to find Amanda Prifti who stopped in Sri Lanka on her way home from Vietnam (where she was working), and found a big reason to stay and put her skills to use.
Amanda met Martina Burtscher, a fellow surf fan who has a similar background and they founded 'SeaSisters', a wonderful organisation empowering local Sri Lankan women to build confidence through the power of surfing.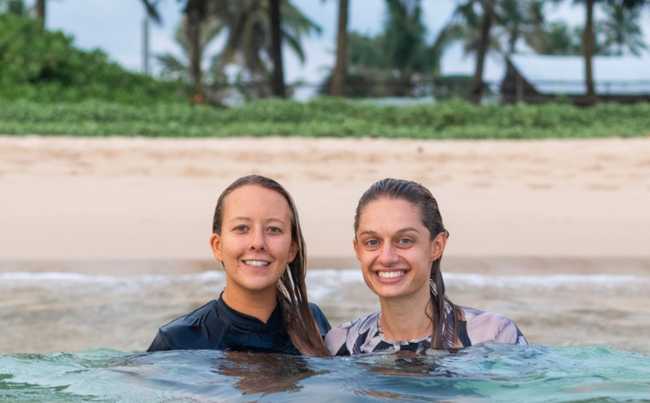 SeaSisters says..
'SeaSisters aims to influence mindsets around gender roles in Sri Lanka, allowing the ocean to become a safe and acceptable space for everyone, regardless of gender, age, shape, size, culture, religion, etc.
Using swimming and surfing as tools for empowerment, we focus on building confidence, showing new possibilities for Sri Lankan women, and equipping them with the capabilities to take up skilled jobs in the thriving surf tourism industry.
With surfing, our participants conquer their fears and do something that they never thought they would be able to do – which strengthens their belief in themselves. Being part of a women's surf club or program also fosters collective empowerment, by creating new support systems and a sense of sisterhood. For the men, they see their women do something they never thought was a 'female' thing to do. When both sides see a benefit, this creates room for new mindsets about what is expected of each gender'
SeaSisters Story
Amanda Prifti...
1. How did you end up in Sri Lanka and what made you stay?
After 8 months in Vietnam, where I was finishing my Master's degree in international development, I stopped over in Sri Lanka for what I expected to be a short holiday. Instead, I discovered a love for this beautiful country and surfing, and became determined to utilize my background to help the local community. In July 2018, I met my SeaSisters co-founder Martina Burtscher, who also had a background in international development. She was working with a group of local women on the East Coast, helping them form Sri Lanka's first female surf club (the Arugam Bay Girls Surf Club) and I quickly teamed up with her, and a woman named Tiffany Carothers to get the club up and running, enabling the women to surf more often. After witnessing the powerful impact that surfing can have for the local women, and learning about the barriers preventing most local women from accessing the sea, we moved to the South and started SeaSisters.
2. Your background is in International Development, what aspect if any are you most interested in?
Throughout my academics, I focused on environmental challenges in developing parts of Asia, specifically how rural, coastal areas of Vietnam are adapting their livelihoods in response to climate change.
3. Surfing seems to be a passion for many, can you describe why? A feeling? An emotion?
Surfing is so much more than a sport or a hobby, it's a form of meditation, acting as a reflection of life itself - it's an arena for overcoming fears, achieving new things, challenging yourself mentally and physically, and practicing patience and acceptance, and so much more!
4. Can you tell us about the first time you taught a Sri Lankan woman/girl to surf?
Most of the local girls and women who join SeaSisters have never been in the pool or sea before, so we start slow and simple. It's such a special moment - one of overcoming fears, doing something previously thought of as 'off limits' for women, and finding your own strength - it's so wonderful to be a part of these moments.
5. How do the women and girls feel when they master the board for the first time?
It's such an empowering feeling! For all of us, when we first catch a wave, we are doing something completely new and challenging, one that requires mental and physical alignment, while connecting to nature. There are so many layers of benefits, both mental and physical, it's amazing.
6. What is it about Sri Lanka and starting a business here that you love most?
Getting to work with amazing local women - smart, motivated and brave, these women inspire me daily.
7. What is your vision for SeaSisters?
Since the start, the goal is that SeaSisters will eventually be run by the local women themselves - our goal is to help those who are particularly motivated in becoming qualified swim and surf instructors, enabling them to run the lessons and teach each other, and also take on the skills needed to run the operations as well. We also envision a surf line up with tons of local women, not just local men and foreigners!
8. How do people volunteer to help out - what skills areas you looking for?
Our lessons are run with the help of foriegn women who volunteer as swim and surf instructors each week, and our team of full-time professional volunteers who typically join us for 3-4 months during the season, taking on responsibilities in finance marketing, design, program development and social media.
9. Where do the local girls and women come from?
Our SeaSisters come from many villages along the South coast, from Matara to Galle, and some even come down from Colombo each week! Such dedication!
10. You are involved in supporting the creation of ethically made products - can you tell us more about this?
Our products are ethically made on Sri Lanka's East Coast in collaboration with another local social enterprise called Rice & Carry. Our products take on a double empowerment model - they are handmade by local women, creating fair wage jobs, and the sales from these products are reinvested in the swim and surf program, enabling more local women to connect with the sea! We currently make a range of handloom bags and will be launching a few new products in the coming months :)
11. Anything else you want to add? Local programmes, future events etc?
Adapting to the Corona pandemic, we will be running a modified season, to be determined in the next months but we can't wait to continue expanding our program in the coming months and years!
More about SeaSisters
Founded in November 2018, SeaSisters is a social enterprise on Sri Lanka's South Coast, striving for a more inclusive and responsible surf community.
Through the SeaSisters Swim & Surf Program, we provide free all-female swim and surf lessons from November to April each year, creating a safe space for Sri Lankan girls and women to enjoy the ocean, and aiming to influence mindsets around gender roles in Sri Lanka.
To support this program, we sell ethically made products, enabling surf tourists to purchase products that give backto the local community, while advocating for more culturally and environmentally responsible practices in surf tourism.
Why?
In Sri Lanka, local women are hardly seen in the ocean. Despite growing up in coastal areas and surf communities, most women cannot swim and thus, fear the ocean. In the 2004 tsunami, 80% of the death victims were women and children.
Further, particularly in rural areas many women are expected to be inside the homes, taking care of the household and family. These traditional gender norms along with other social and cultural barriers, often exclude women from accessing public spaces, which includes the recreational and economic opportunities of surf tourism.
Additionally, excessive consumption of plastic and other resources threaten the sustainability of our surf communities. A lack of awareness around environmental issues and alternative practices, among both surf tourists and locals, worsens these challenges and prevents more sustainable behaviors.
Vision
We imagine a world with more women on waves and where surf tourism benefits the local community while minimizing harm to the environment.
Biographies
*Amanda Prifti - SeaSisters Co-Founder & Surf Photographer*
Originally from the US, Amanda holds a BA in International Affairs and Environmental Studies, and an MSc in International Development and Management. She specializes in environmental challenges facing coastal communities in developing countries. In 2018, she conducted her MSc research in Vietnam, assessing social vulnerability to natural hazards and environmental changes.
Intending to apply her background to foster more sustainable surf tourism, Amanda arrived in Sri Lanka in February 2018, where she fell in love with the country, its people and waves. She met Martina Burtscher in Arugam Bay and alongside Tiffany Carothers, they established the Arugam Bay Girls Surf Club, the country's first surf club for local women.
In addition, Amanda is a surf photographer. Through the lens, she shares the stories of her fellow surfers, with a particular focus on women challenging the status quo. Seeking to capture the beautiful moments and emotions of riding a wave, you can see her work here: www.photosbyprifti.com
*Martina Burtscher - SeaSisters Co-Founder & Researcher*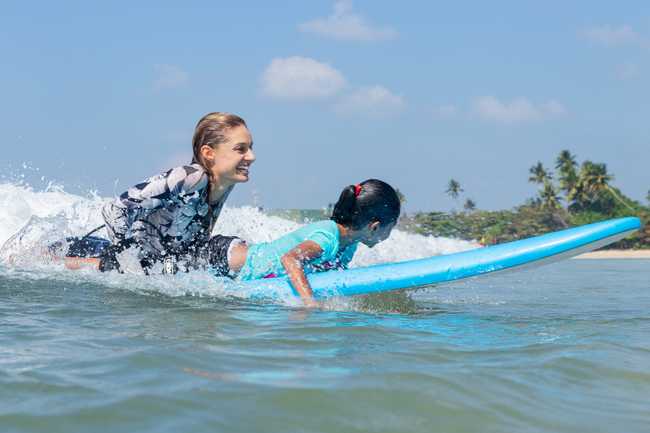 Originally from Austria, Martina first came to Sri Lanka in 2017 to conduct research for her Master's thesis 'Women Making Waves'. Her thesis is one of the first studies about surfing and women's empowerment in the Global South, highlighting the perspectives of pioneering female surfers from Sri Lanka.
On her research trip, Martina learned more about the complex barriers that Sri Lankan women face in getting into the waves - and promised a group of women from Arugam Bay to help them start their own surf club. In 2018, she returned to Sri Lanka to co-initiate the Arugam Bay Girls Surf Club, teaming up with Tiffany Carothers and Amanda Prifti. Together with Amanda, Martina co-founded the social enterprise SeaSisters as a follow-up.
Martina holds an MA in International Development and a BA in Corporate Communications. Being a passionate surfer herself, she is particularly interested in the intersection of surfing, development and gender. For 2020, a publication of her thesis is planned.
Website and social Media
Photo credits : Amanda Prifti