Writing as a traveller, designer, and first-time hotelier, this is Dee Gibson's design journey when it came to building and developing the Kalukanda House brand in Sri Lanka
Designers are creatives, yes, but we also play armchair psychologists, marriage counsellors, thought leaders and diplomats. It's easy to get lost down a rabbit hole when designing a space unless you get a firm grip on who a client is and how they want to feel in that space. 'Design is really an act of communication, which means having a deep understanding of the person with whom the designer is communicating,' is how Donald A Norman put it in The Design of Everyday Things. Emotional Design — that's the approach I take with all my design projects.
I'm not the first to use the terminology, although it's not widely referenced.
My Sri Lankan Connection
A British-Sri Lankan interior designer, born and raised in London, I lived with my grandparents for my first few years in Colombo. But those early years made an impression. I'd travel around with my civil engineer grandfather who worked on buildings and bridges across the island. After I returned to the UK and started school in an all-English suburb, those toddler-age experiences were packed away and forgotten – so I thought. Then, when I returned to Sri Lanka in 2016 with my family who'd never been there, I felt re-awakened.
The sights, sounds and smells transported me back to those carefree days of childhood. Ten days later, I found myself rooted to a piece of land that I'd found for sale in Weligama, knowing I couldn't leave Sri Lanka unless I knew we would return.
Colour, texture, character
As a designer for two decades, I've always been heavily influenced by colour and texture. Rich hues, sumptuous fabrics, heavily crafted furniture – I love to blend and balance it with simplicity and space to breathe.Building a luxury hotel from scratch was an opportunity to strip back to the essentials and allow the design thinking to evolve. I looked for materials and fixtures that would fit our story, which weren't trend-led. I was building a brand new building, but I wanted to make it feel like it had been around forever.
Creating Kalukanda House
My aim with the look and feel?
To prompt the same indescribable emotion I had when standing on the land, reproducing that same sense of awe and other-worldliness for guests coming through our gates for the first time. For me, it was also about sharing the magic of those many days shadowing my grandfather, ice creams on the beach, larger-than-life elephants and tropical gardens. I wanted to tell the story of an island as old as the world, fought over by other countries, spilling with spices and sweet-natured people. A tear-dropped island steeped in tradition and history, welcoming everybody with curiosity and open arms.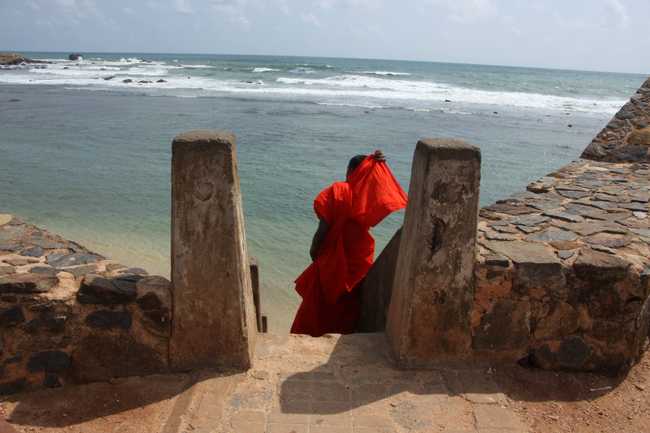 The Walauwa style — the name for a colonial manor house — is that associated with royalty, with grand architecture and open spaces set within their own gated grounds. The original plot had a derelict bungalow, with no water or electricity. Empty for years, owned by a developer who'd done nothing with it, its caretaker on our staff to this day. Wild and bursting with life, its grounds were seemingly Tarzan and Jane's forgotten secret hideaway backed by a tall golden cliff. Tropical grounds bursting with life, its trees and flora sanctuary to monkeys and kingfishers.
We carefully selected and few trees to cut back to release more light, and designed outdoor spaces around the remainder. Sunlight floods through to the gigantic palms and jackwood trees. Exotic flowers, shrubs and frangipane, ensure the tropical garden is ever bursting with life with monkeys flying through the treetops above — otherwise too shy to come closer — and peacocks and mongooses below.
Designed for the conscious, luxury traveller
Sustainability was always at the forefront of my mind, as I designed the property for those who love luxury, want adventure and immersive experiences, and who are keen to interact at a human level with a country and its people. Kalukanda House's definition of luxury is having the time and means to engage at a human level, to savour every pleasure our senses can find. The words 'emotional and conscious' are the golden keys to sustainable and timeless design. It's about conscious choices, sensitive decisions. Solar panels heat water for showers. Natural well water irrigates the garden.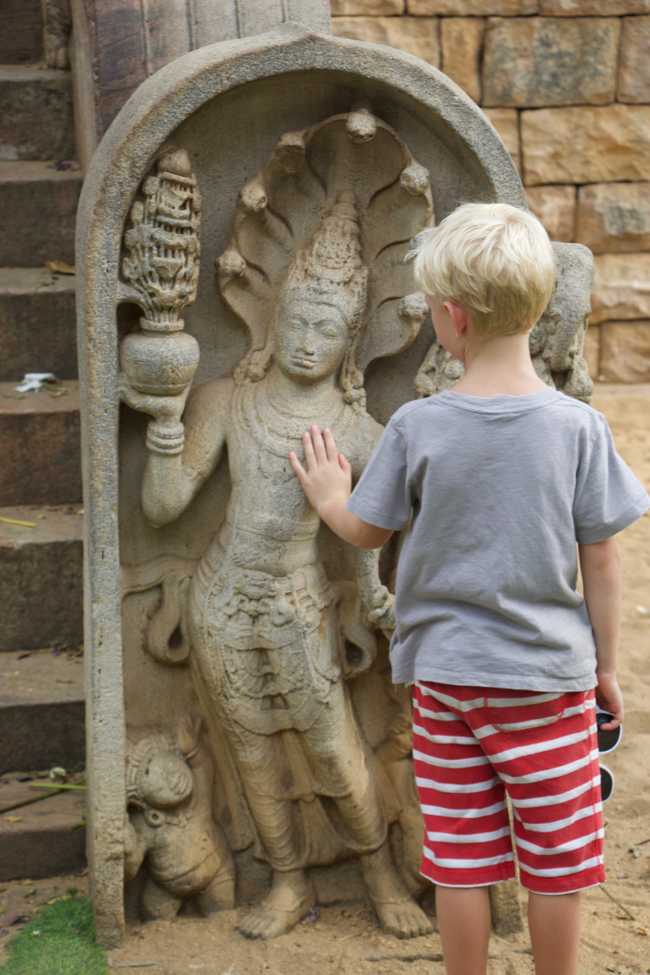 Repurpose, Reuse, Re-imagine
We stripped the bungalow of every inch that could be reused. Original clay roof tiles were removed one by one and saved, shutters, doors, even the rotting fretwork was all dismantled. It was important to us to reuse as much as possible but also replicate original patterns wherever we had to make new. The charm of the original building had moved us, and this was the closest I could get to completely replacing it and creating a sense of history.
Having regular contact with the contractors from London meant that I could see the hotel going up brick by brick. Our Sri Lankan builders knew the local building techniques as well as how to work with modern materials, they used labourers from local streets to help on smaller tasks and we retained the caretaker who had looked after the site before. Relationships were built and strengthened and our presence in the village retained its roots.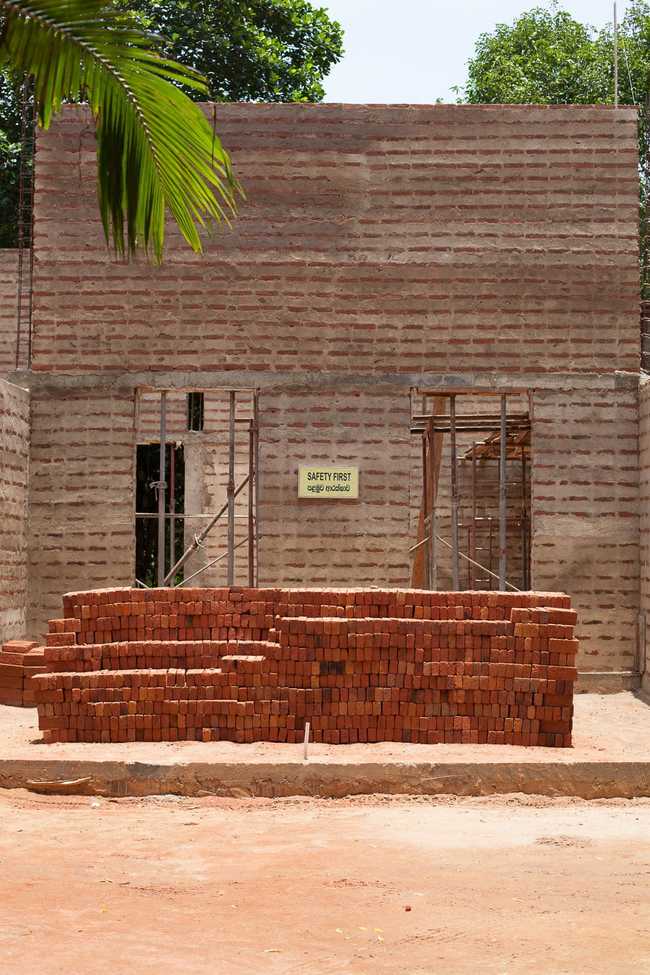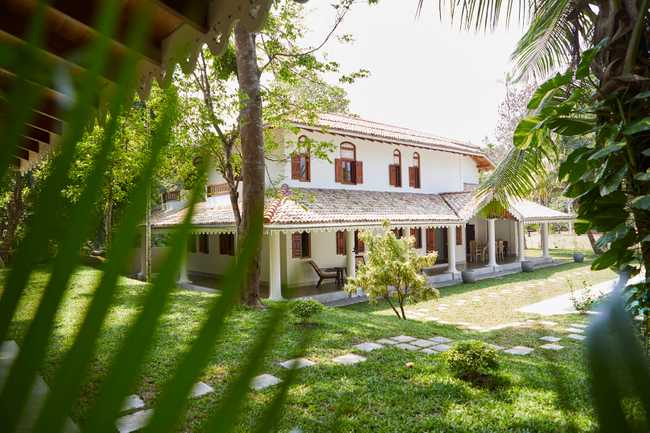 Provenance, Heritage and Craftsmanship
Styling and fitting out the hotel with antiques was a deliberate and painstaking process, too. Each piece was individually selected based on how they stirred us emotionally. The craftsmanship and love that goes into making a piece of furniture demands for respect. Every piece is in active use and has a specific function and collectively they evoke memories of a bygone era. We used a local antique dealer who had stories to tell of his life, including where he was on the day of the Tsunami in 2004. These human connections and stories of provenance added layers of interest and emotion into the design process.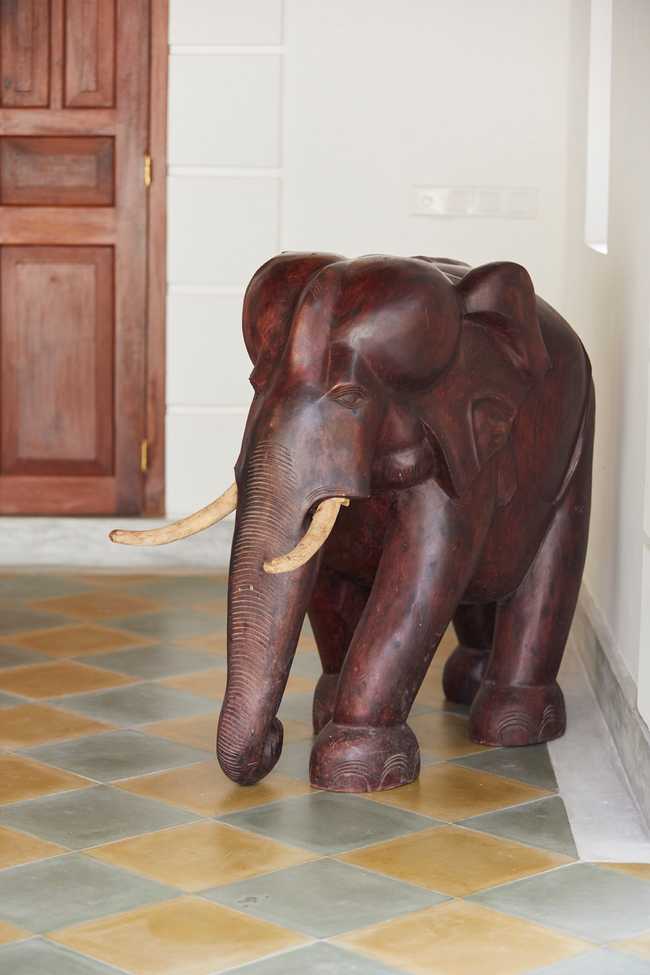 Sri Lankan story telling
Travellers love to hear stories, and here they know that the reproduction vintage British rail prints on the walls from the '20s and '30s are a nod to Ceylon under British rule. Both my father and father in law had families who worked on the railways and they are passionate about trains. Framed Sri Lankan costumes adorn the walls, given to my daughters by my parents when they were little, and the planter's chair on the veranda is a favourite spot for morning tea.
The four-poster beds are hand-carved, and the mattresses are better than the ones we have at home – chosen for deep, restful, dream-filled sleep. The large elephant on the veranda was commissioned from a local craftsman in a shop on a sidestreet in Galle — he ended up creating lots of pieces for us. I wanted to spend money with artisans who were off the beaten track and help us support a circular economy.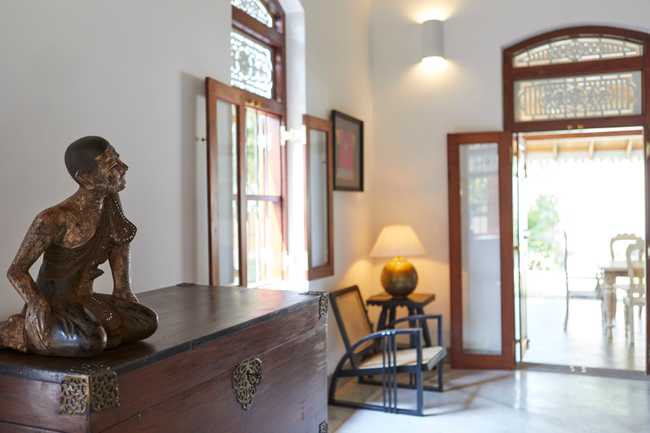 Our home, Your home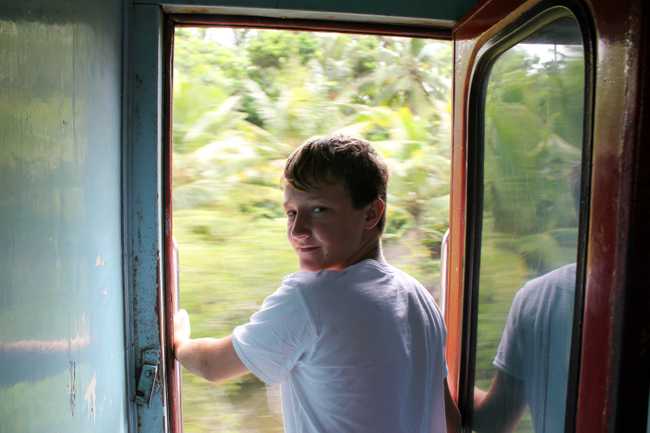 Finishing decorative touches invite wonder about who we are as owners, hopefully revealing a sense of humour and some humanity to bricks and mortar. Building trust also gives our guests the confidence to go and explore. I have tried to set the scene for a whole host of experiences that cover seeing wildlife, learning about the food, people watching, using the spaces in different ways, trying something new that they may not have tried before.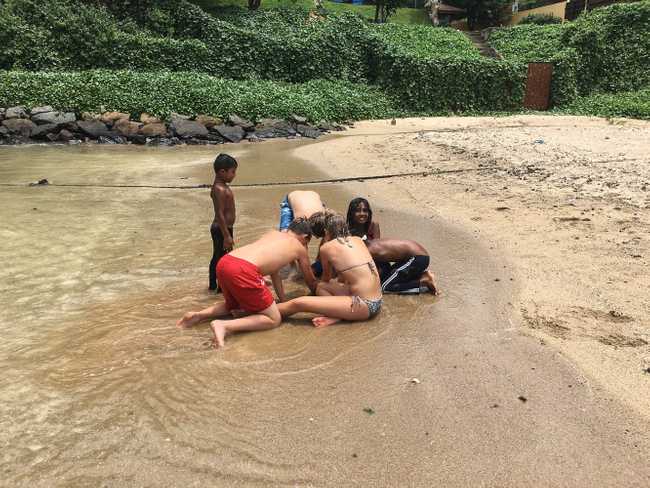 As a result, we have been getting wonderful reviews, and people are coming back for more. From the outset, a conscious and emotional approach to designing comes through every inch of space.
You can feel it when you walk into a successfully designed room.
What does the owner or designer want you to feel?
What are they telling you about their values?
Come feel Sri Lanka
I want people to FEEL Sri Lanka. The warmth of the people, the history, the diverse landscape – and I want them to trust that they can have immersive experiences and also enjoy time in luxury. I have created a space for familiar past times and conveniences with visuals that remind you that you are experiencing a land that is very different from wherever you call home. We encourage guests to go on at least one of our experiences to make a meaningful human connection with locals.
We sit on the Board of Trustees of a local children's charity, Their Future Today (theirfuturetoday.org) who we support through donations from guest bookings and other means and believe that buying local, fresh organic ingredients and supporting local communities are the key to an inclusive, expansive mindset.
Our staff are trained to be discreet yet attentive and are encouraged to interact warmly if it feels appropriate, recreating those moments of connection we had when building Kalukanda House.
Guest experience and a deep sense of connection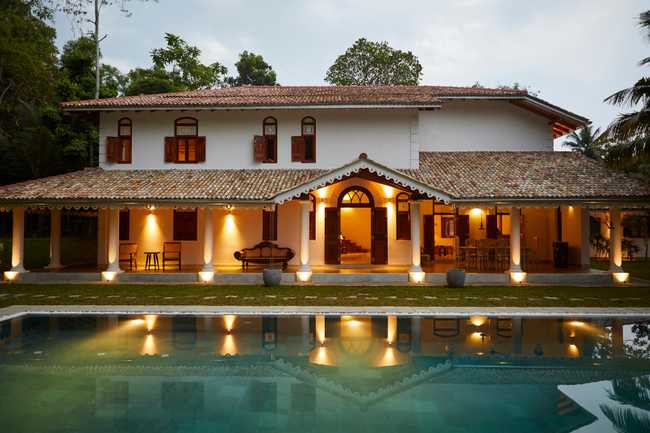 The provenance and values of the hotel, the people, and the environment are everything. Actively participating in our sustainability initiatives is a deeply rewarding aspect of a stay at Kalukanda House. I believe that understanding the people and the 'why' behind a space is what's most powerful. The process of Emotional Design can be slower because of the layers of work behind the scenes, but ultimately, it is more successful because it is less wasteful. Overcomplicated technology, throwaway fixtures and faddish design aesthetics result in quickly-forgotten buzzes, reflecting an unconscious lack of respect for the environment.
The design process starts and ends with the human aspect. As an interior designer, I gush about how the success of my design is measured by how it makes my clients feel — and with the hotel, the guests. A space should work functionally, but it needs to spark all the senses. From the get-go, my way of working on any setting is to think about all the elements being pulled together to create a deep sense of connection with Kalukanda House that will stay with guests long after they have left.
Kalukanda House is about bringing the creative and spiritual beauty of Sri Lanka to our guests through our villa and the experiences we give them. Emotional Design, put simply, is nurturing human connection and storytelling.
About Dee Gibson
Dee Gibson is a London based Interior Designer and Hotelier and a regular speaker and panelist for the BIID.
"I passionately believe that designers can set an example of how to create beautiful spaces that articulate a message. I am using my ethos of 'Emotional Design' to encourage a mindset actively seeking ethical luxuryand conscious travel. As the world puts up borders I want to break them down, having created a beautiful, luxurious space where guests can immerse themselves and leave behind a positive social footprint, give back to communities, and bring home beautiful memories and interesting stories to share. We are part of a global community, in 2020 we have an opportunity to be more vocal on this subject and drive positive change"
September 2017 : Finalist, 'Most Inspiring Businesswoman' of Best Business Women Awards, UK.
Dee has spent two decades working with private clients creating homes reflecting the people living within them. Her business Velvet Orange regularly pulls together teams of builders, architects and craftsman to create these spaces and she believes in building relationships and encouraging a circular economy.
Dee splits her time between Sri Lanka overseeing the hotel and London working with private clients. She is using her platforms and skills to curate experience based holidays for adventurous, conscious travellers while also championing a local charity where she has joined the Board of Trustees