Indy Vidyalankara is an award winning Music PR & Diversity Consultant and Founder of 'Indypendent PR'
As part of our series showcasing female founders in the Creative Industries, we talk to Indy about her career path, passion for music and impact she is having for DEI in the music world.
How did you become a music PR?
My career has been a winding road of career pivots. After Manchester University where I did a maths degree, straight after uni I went into the creative industries. I worked for a fashion marketing company. Generally, being a dog's body receptionist making cups of tea running around, greeting visitors, doing admin, excel spreadsheets, basically doing about four jobs. I did that for a few years and then I went to work as a PA for a big brash talented Kiwi at a small advertising agency, which quickly merged with Saatchi & Saatchi Advertising.
My Kiwi boss was a huge champion of me and before long I got onto the Graduate Trainee Scheme. I always loved music and through all of my life up to that point, I'd been a massive music fan, music nerd, and was friends with musicians, journalists, live music promoters and went to loads of gigs and club nights.
I got to know people on the scene and a friend introduced me to someone at Sony Music and I went for an interview for the role of Press Officer at Epic Records, which I didn't get. Then I just persisted and pestered the people who didn't give me the job and they told me the same job was going at Columbia Records. I got an interview and won the job working for Carl Fysh, who is now a PR supremo in the game, I learned from the best. That was the start of my career in the music business and that was 20+ years ago!

I got poached by the BBC to work at Radio 1 and 1Xtra and I had the most incredible time working on amazing programmes with some of the biggest talent, from John Peel, Zane Lowe and Pete Tong, to Annie Mac, Nick Grimshaw and Greg James at the start of their Radio 1 broadcasting careers, to Bobby Friction and (fellow Sri Lankan) Nihal Arthanayake. I moved to BBC Television where I worked on some of the biggest entertainment programmes like Strictly, Children In Need and Comic Relief with more household name talents, as well as comedy shows. I was at the Beeb for 11 years before I was headhunted to come back to Sony Music as Director of Communications which was career defining and I was the first woman of colour in that role, so it meant a lot to me.
After 20 years in corporate life, I was ready to work for myself and start my own PR business so I set up 'Indypendent PR' in the autumn of 2015. It was the best thing I ever did.
I work with artists, brands, music charities, award shows, festivals, organisations and record labels. I also am a Diversity Consultant and sit on some high profile music industry diversity boards at UK Music and the BPI who run the BRIT Awards. I'm very grateful for the career I've had up to now, I'm blessed to find my work endlessly inspiring.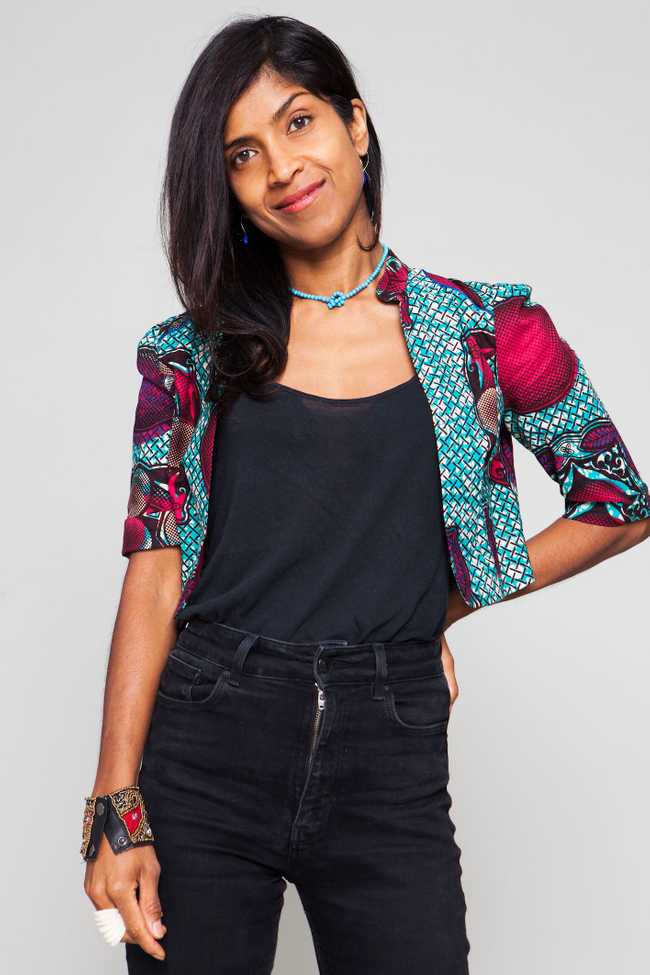 What is it about music that inspires you so much?
I think music has a way of being the soundtrack to our lives. It is the marker, the trigger, the spark, the companion to our lives. There's music all around us, always at some of the biggest, more important parts of our lives. I find it hard to understand anyone who doesn't appreciate music because it's just so powerful. It creates emotions it creates unforgettable moments, it sparks your imagination and it brings people together.
I love working with musicians. I love working with creatives and visionaries and mavericks and innovators, and that's been a distinctive backdrop to my career. I love many genres of music sorts really. I've got a really open mind.
As a music PR I work with stuff I connect with. I love all black music, but also electronic, acid house, techno, rock n roll, It's a broad church!


What is you career highlight to date?
It's hard to have one highlight there's been a few. Amazing highlight was at the start of my career, walking into Sony Music and Columbia Records, which has been the bastion of black music through the decades. Another career highlight was walking into the BBC into my dream job at Radio 1 and 1Xtra. There have been many adventures, but one special highlight was being inducted into the Roll Of Honour at the Music Week Women in Music Awards a couple of years ago. It was humbling really to be recognised by the industry.
Most recently something I wasn't expecting for the second year running, being named Top Ten in Entertainment PR by PR Week in its annual Power Book list. Humbling to say the least. When it happened the first time, I was the only person of colour on the list, so naturally thought it was a fluke and my imposter syndrome was strong. This year I made it into the Top 10 again as the only person of colour, so here I am repping again!
Indy presenting Mimi The Music Blogger with the Best Journalist Award at the 2023 Young Music Boss Awards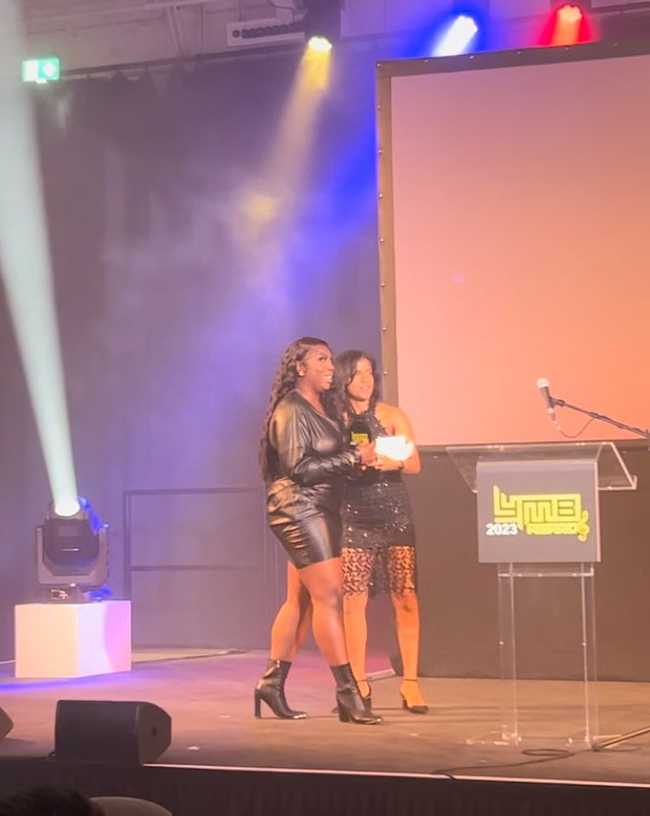 Any funny or silly moments you have experienced with artists?
When I was a young publicist at Columbia Records, my boss at the time gave me my first task out of the office, which was to work at the Nordoff Robbins Award. Nordoff Robbins is a music charity, and it raises money to help young people with disabilities or on the spectrum through music therapy. It does amazing work and some of the biggest stars support it and are also recognised through its annual awards, which supports the biggest household, internationally recognised superstar names.
So little me was sent out of the office to the Nordoff Robbins Awards to look after David Bowie, who was receiving a big award that day. I spent the afternoon with Bowie and his wife Iman. Both lovely, funny, gracious people. I can't say I didn't love that.
Another funny memory was when my boss asked me to go and buy sandwich ingredients to make Turkey sandwiches and take it to Destiny's Child. So Beyoncé Kelly and Michelle, who were staying in the penthouse of the Metropolitan Hotel on Park Lane, wanted to make their own sandwiches. They were truly such down to earth young women! That was just one of the funny tasks that I had to do. Buy the food shopping and drop it to them in their penthouse. Which I'll never forget.


What inequalities do you see in your work?
I still see a lot of inequality around me. For example, the major labels still look very white in the C-suite. At the top and middle and bottom rungs of the ladder, inequality still exists. But it's been absolutely wonderful though in recent years, to see so many women and black women appointed on to significant positions and get a seat at the table. I'm really proud to be part of the change through my work on the UK Music Diversity Taskforce and the BPI Equality and Justice Advisory Group which advises the BRIT Awards. There's still a lot of work to be done, but the intent, accountability and the responsibility is there around the table. One of the things I'm passionate about is implementing Ethnic Pay Gap reporting.
We have to look at what are the steps we can take towards change and with the Taskforce, we have a Ten Point Plan and something called the five P's, which are about creating action for change through committing to various steps. Each and every organisation in UK Music are signing up to it. So change is possible. We have to stay optimistic.


What is your passion and what motivates you?
Wanting to do something about inequality!
When I was starting out, there weren't any women that looked like me in positions of authority. There were no brown women in any senior positions in the music business, nobody to aspire to. I didn't have a mentor and I didn't have a role model. But what I did have was a male ally. And that was really important to my progression. My male ally was my big brash Kiwi boss at Saatchi & Saatchi. And he was a real champion of me and helped open doors for me and that is what an ally, in my case a male ally, does. They use their privilege to forward the progression of others with less privilege. We need more allies, we need more role models, we need more people who look like us in visible places, in aspirational places.
Thankfully, there are more because of some of the amazing appointments we've seen across various organisations in the music industry, a lot more role models and there's also work being done. There's initiatives that support the talent pipeline into the industry, like the Cats Mother Network which connects young aspiring women wanting to get into music. Things are changing, there's more opportunities for young people and it's really exciting to see.

The gap for me lies actually with older women and women of colour. The UK Music Diversity Report last year showed that they are still underrepresented in the music industry. I'm on the board at Parents & Carers In Performing Arts (PiPA) and one of the things that we uncovered is that women are actually dropping out of their careers in music when they become mothers. Fathers, are well represented in the music industry, but mums are not. There is a talent drain of women when they hit a certain age and lifestage. It is really important to uncover these things and have conversations and look into what needs to be done.
Mothers are the engine of our society, the engine of civilization! They give us diversity of thought, diversity of lived experience, they are powerful, resilient, yet they are still so undervalued. We have to make space for mothers. And we have to make space for people of colour and older women. That's the stuff I'm passionate about right now.

Indy receiving Music Week Women in Music Roll of Honour 2021 with Paulette Long OBE


Why is there a shortage of Asian artists on main platforms?
I know intuitively that there is still an issue with opportunity for South Asian pop artists. I've worked with South Asian artists and they get pigeonholed as soon as they get signed. Some in the industry might think it tricky to position an Asian artist as a pop mainstream artist, and that will compromise the artist's integrity. They tend to get moulded into a certain format.
I think that there is a disconnect between the diversity of pop artists that really showcase the amazing multicultural identity in this country. It's not visible enough in music and it should be. There are some amazing Asian artists that are breaking through, but it's a cycle and it's a slow process. I know a few South Asians like me in music are talking about it and want to see more brown artists who look like us get a mainstream platform, I'd like to have more conversations about it and get more insight.


What advice would you give youngsters wanting to follow in your footsteps?
Be persistent. Be passionate. Knock on the door. Hit people up. Ask them for a 15 minute zoom. You'd be surprised who would be up who'd be up for meeting because people generally like to help the next generation and feel flattered to be asked.
If you don't ask you don't get.
So you have to put yourself out there. It takes some courage. Speak to as many people as you can to get advice and network. There are lots of conferences and events and opportunities for young people to listen to speakers, music industry events aimed at aspiring music business leaders. More opportunity than ever to find out more about the career you want.
When I went to uni I had no idea what career I wanted, i just knew I loved music, so I am blessed to do the work I love. So decide what path you want to follow. Is it PR? Obviously being a PR is about dealing with people and communicating. It's putting yourself out there. Don't be shy. But if it doesn't go to plan, look at what you can learn from the experience, don't see it is failure.
Failure is the building block of life, and every interaction is an opportunity!