Their Future Today - TFT
We wanted Kalukanda House to work with local charity and philanthropic causes with maximum social impact from the outset. A single well timed question at an event in London led to an introduction to Lynn Stanier MBE, founder of Their Future Today
Lynn is a powerhouse who has moved mountains with her charitable work and has been recognised in the UK honours lists. How does someone who ran a luxury business offering services to Royalty, Frank Sinatra and the like become the head of a round breaking charity on a tiny island in the Indian Ocean?
We have been very proud to offer holidays as auction prizes and a percentage of our guest bookings are donated to the charity. Since meeting Lynn, Dee Gibson (founder of Kalukanda House) has visited the orphanage, pre-school and girls' home and now sits on the Board of Trustees and works with a team of others to help Lynn and her devoted charity staff.
In February 2020 we held the 15 year anniversary TFT Crystal Ball. Over 120 guests, many who had visited Kalukanda House, gathered for a gala event and raised over £40,000 in London. As we went into Covid19 lockdown, some of this money could be quickly distributed by Lynn and her team to grateful families urgently needing food and supplies.
Lynn shares her remarkable story here. Regular updates on the charity and how you can be involved can be found on these Social Impact pages.
Find out more contact
1. Do you remember the moment you heard about the Tsunami and the awful damage it was causing?
On 26th December 2004, I unknowingly felt the vibrations of the tsunami in transit at Singapore airport, enroute to Australia.
My mobile rang, it was a client asking me what was going to happen to the holiday which I'd organised for his family to Sri Lanka to depart next day. He told me there was a tsunami. I found an internet connection to see what that meant. It was frightening to think that I'd only cancelled my family holiday there a couple of months earlier, in favour of visiting relatives in Melbourne.
One of the hotels where we would have stayed was completely wiped out with no survivors, and many of the hotels featured in the news bulletins were very familiar to me, as I'd worked as a Sri Lanka travel specialist for four years organising the first overseas youth county cricket tours, and then holidays, honeymoons and cultural tours. I'd fallen in love with the country and its people in 2001, and visited regularly.
2. Many people would donate some money to a cause, what stirred you to get on a flight out to Sri Lanka?
In all honesty I didn't think I would ever return as I've had a fear of water since I was a little girl when I fell off a boat and nearly drowned in the sea! However, my eldest son had just graduated and was working in our travel office to assist staff as we had 35 clients on different tours at the time, who fortunately were all ok, except for a few minor injuries. He read the pleas for help from our agents in Colombo and decided he wanted to volunteer. He booked a flight one day to depart the next, and despite having a nine year old and a mother at home with dementia, I couldn't let him go alone, so I took a deep breath and went with him.
3. Did you know what tasks you were going to undertake? Can you tell us a little bit about what you found when you got there?
No, we had no idea what to expect. The devastation of the little fisherman's houses, roads, trees and boats started from just outside Colombo all the way down the coast road to Galle was heartbreaking and shocking.
We helped move debris to clear roads as there were no JCB's in the country at the time, and met a volunteer who told us about Ruhunu orphanage.
The stench of urine and sounds of screaming infants hit us before we entered the dilapidated old building. I'd never seen anything so shocking. All these whimpering little mites with their arms held high, were begging to be held and comforted. I picked up a tiny screaming, starving baby girl called Piyumi, she looked at me and stopped crying. I made a silent promise to help her. She became my inspiration and was the first child we reunited (with her parents). Piyumi means Lotus flower, and the meaning of the lotus flower is to transform from the darkest depths of the pond to something beautiful.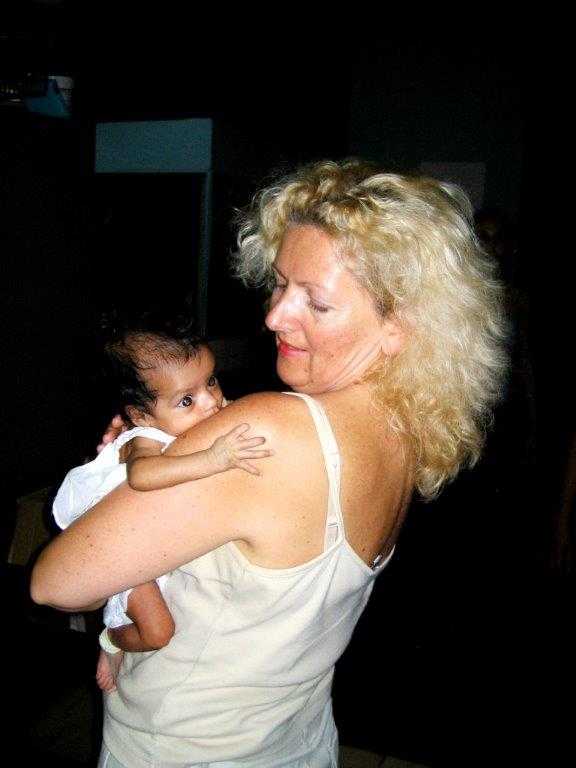 4. Tell us about the pivotal moment that you decided to set up the charity
It was very gradual. I had absolutely no intention of setting up a charity at the time…I loved my job but I just couldn't forget, and un-see what I had seen.
I returned to the UK and contacted all DEC charities to find out how they were going to help these children and was horrified to find out that the millions of pounds raised was only to be spent on the initial disaster and there were no plans to help in the rebuild or to help the thousands of children who were orphaned or abandoned after the tragedy. I was so upset and decided never to donate money into big pots again.
First I held coffee morning fundraising events and made gift cards to raise awareness and money, which I planned to send out to a foundation there who were committed to improving conditions. Unfortunately there was a child abuse allegation against one of the founders and all volunteers had to leave. The orphanage was put under police guard, and I found myself responsible for a couple of thousand pounds which I'd promised to spend there and no way of doing it, unless I went back and spent it myself, which I did, on business, a few months later.
Initially we put in water and electricity supplies, fitted washing machines and filled a lorry with baby milk, clothing, nappies and toys.
5. Can you tell us why you chose the name?
It was heartbreaking to think these children had absolutely nothing in the world, and were barely surviving. Their environment was truly horrific, and not fit for animals let alone infants.
No love, no cuddles, no care, no play, no stimulation, no education, no sunshine and no future. It pained me to think they had absolutely nothing to live for and stared at filthy grey walls, rocking in silence every day. .
I wanted to give them a future. The name came to mind on the flight home. I wanted to give them their future, today. Our tagline is TransFormaTion of Little Lives! TFT!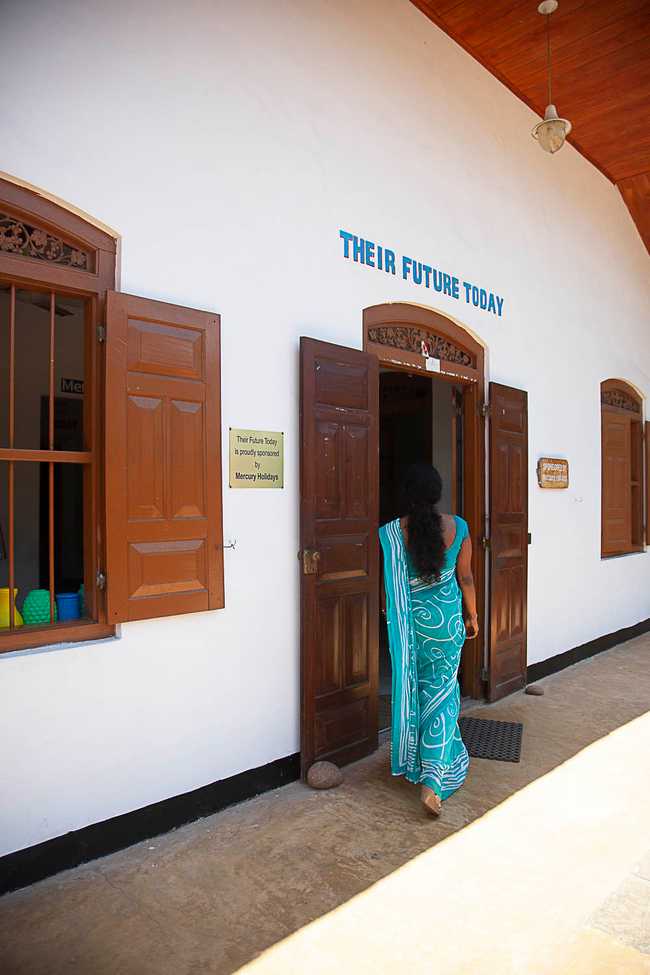 6. How long were you running the charity before you gave up your job and took it on full time?
In 2005 I started fundraising and learning about charities alongside my wonderful job as a luxury travel organiser and founder of an airport representation business which served VIP's from the film and music industry. As well as providing a service to royalty and celebrities like Frank Sinatra and anyone who was anyone at the time, I also volunteered as a mentor at Feltham Young Offenders institution, to help prevent suicide of teenage boys.
Five years later, with three children and a mother at home with my father with dementia, and being an only child, I had to face the fact that I wasn't coping well, but financially I couldn't afford to leave my businesses.
The Universe decided to take the matter in hand. I burnt out, contracted pneumonia when my mum passed away, and then suffered chronic fatigue syndrome for the following four years and couldn't work in my travel office. I registered Their Future Today in 2010 and sat working on my sofa until I recovered in 2015, and then I moved to a small office and employed an apprentice.
I felt reborn.
7. How is it running a charity in a land where you don't speak the language and the culture is so different?
Its challenging to say the least, but I've spent so much time in Sri Lanka over the past nineteen years, and our Country Director says I know more about the country than most Sri Lankans!
I have a few words which get me by, but wearing a smile and being totally respectful of working within this different and complex culture has been key to success. I've seen so many people try and fail after diving in with the best of intentions and insisting upon making what seems obvious change for the better, but it just doesn't work that way.
8. You were recently awarded an MBE, can you tell us about the achievements you were recognised for?
My award was for Community Services in Sri Lanka, and was approved and endorsed by community leaders, childcare commissioners in Sri Lanka, the British High Commissioner in Colombo and the Secretary of State for Foreign Affairs.
Their Future Today is known as a social services organisation and we've helped thousands of disadvantaged children and families since 2005. We employ 36 housemothers, teachers, physios and have introduced the first childcare training in Ruhunu orphanage for infants under 5 years, built classrooms and dormitories and introduced vocational training programmes in two orphanages, one for abused girls to give them life skills and opportunity.
We provide therapies for special needs children in an orphanage, created two preschools, one in the orphanage which is modelled on our successful community preschool of excellence in Pinkanda and teaches English to under 5's. We build homes and reunite homeless families and support and train mothers to become sustainable.
We prevent abandonment in the community by strengthening families and we're campaigning and providing training at a national level with global partners to introduce 'Alternative Family and Foster Care' to end institutionalisation for good.
9. What is your proudest achievement to date through the charity?
My personal proudest achievement was the privilege to be presented with my MBE medal by Her Majesty The Queen in her home at Windsor Castle, it was one of her very last award ceremonies.
She said she was impressed by TFT which really surprised me, and said she was sure that it was very challenging work. When I agreed, she told me that she hoped I would carry on and continue making a difference to the lives of children in the world. It feels quite a weight to carry sometimes.
There have also been many wonderful moments in Sri Lanka, which couldn't be achieved without the support of our loyal donors, staff and volunteers, and I'm very proud to be leading this incredible team.
Nothing in the world can be more rewarding than reuniting a mother or father with their child, or helping a family to become sustainable to keep their children, or seeing the happiness from poor families when we give schoolbooks to enable their children's education. Sometimes these are the first generation in the family to go to school and the parents then begin to learn from the children.
It's impossible to accept that girls, some who are as young as ten years old, are pregnant, rejected, and then locked up for their 'safety and protection', and denied the right to education. They are punished when they have suffered rape and abuse, often within their own families. I am proud of our work to help these courageous girls fight back and provide vocational training to give them future opportunities, hope and a lifeline. The statistics are so high for them to resort to prostitution, crime and suicide.
Education is priceless and life-changing and ultimately will help to reduce abandonment through poverty in the future.
10. If you could pick one goal for the charity in the net 12 months what would it be?
The biggest goal at the moment is to see our poorest families survive the threat of the Coronavirus Covid 19 pandemic. They are now trapped between hunger and threat of the virus as the strict curfews have restricted their daily income and they cannot put food on the table. Thousands of children are at high risk of malnutrition as during the last three months schools have been closed and usually they would receive a meal.
So far we've donated 1,050 food parcels comprising rice, dhal, vegetables, eggs, sugar, flour, milk powder and biscuits to last families of six for a week, but we cannot sustain this indefinitely, and children have never been so at risk of abandonment into the harmful orphanages which we are trying so hard to keep them out of.
11. What is your vision for TFT over the next 5 years?
I'd like to see government investment particularly in the lives of disadvantaged women and girls so they are valued, protected, respected and educated and able to support their children to prevent abandonment.
Our community awareness campaign message 'Children Belong in Families, Not Orphanages' is slowly becoming recognised and our aim is for the long term harm caused in orphanages to be understood throughout Sri Lanka to end institutionalisation.
We've been working so hard over the years to influence change and now there is enormous support for alternative family and foster care knowledge and training which we've been successfully providing with specialist global partners to communities at grassroots level, right up to the national judiciary.
Just before lockdown, we received the support from the Sri Lankan Cricket board to advocate our message at the Sri Lanka vs England matches, which would have reached and influenced almost the entire population.
Hopefully, this will still happen in the near future and our ultimate vision for alternative family and foster care will be introduced over the next five years, and orphanages will be closed forever.
12. Apart from donations, what is the single most useful help that anybody could give you?
More than 80% of children in orphanages have at least one parent, they are not orphans and nearly all have families.
These forgotten children are most often abandoned through poverty and family breakdown. They need a voice, and we can shout for them and be the change, so please help us promote the message.
Institutionalisation affects the mental and physical health of millions of children globally, and the UNCRC states every child deserves the right to grow up in a family, and have a name and not a number.
Practically, we also need volunteers with medical experience, health workers, social workers, teachers and foster care specialists.
13. Can you give us an idea of what a monthly contribution of £5, £10, £25 and £50 would do for the charity?
£5 – Buys a mosquito net for baby, or milk powder for two children for two weeks
£10 – Buys school books so a child can go to school for a year and pass exams, or a schoolbag and resources.
£25 – Pays for a housemother to look after 20 babies for a week, or a teacher to provide life skills and vocational training to abused and disadvantaged girls.
£50 – Feeds a mother and baby and keeps them together for a month, or provides income generation support like a sewing or coir machine or orange juicer, umbrella and table to sell at the roadside.
14. Can you share 1 or 2 stories of children you have helped through TFT and where they are today?
Piyumi, my inspiration is now 15 years old. We reunited her in our first TFT house with her brother and mother when she was 5 years old, and she has dreams of becoming an artist one day.
She was always introverted in the orphanage, and has always been painfully shy. I couldn't believe it when she told our project manager a few months ago, that she hoped to have a meal with me one day. We immediately met for lunch inside a hotel, where she tried cashew nuts, prawns and strawberry milkshake for the first time.
She'd never seen a knife and fork, didn't know how to use a straw, and asked why ice-cream was served in a pot (bowl), and she heard how she had been the inspiration behind TFT. After a long pause, she said she felt very happy! Next day, I gave her a ten year collection of photos of her life, which was very emotional as her devoted brother was killed in an accident six years ago and we shared many happy memories with him.

Shantakumara, now 17 years old, lives next door with his mother and younger brother and sister in our second TFT house. He has now completed his education with the schoolbooks we donated, and he now works in a shoe factory and helps to support his family.
15. Anything else…. One last story..
Chaminda was paralysed and unable to support his wife and two children, he needs full-time care. TFT has supported this loving family to keep them together since 2012, and built an outdoor shower and toilet and provided a wheelchair, medication, and schoolbooks so the children can go to school. Chaminda's son recently passed his exams and we coached and kitted him out for his army interview. Not only was he accepted, but also posted close to home so he can support his family, and his father now receives free medical treatment at the Military Hospital.
It is a real privilege to help change the lives of such amazing people, who continually teach us so much about resilience and survival in truly terrible circumstances.