Melisa Fernando is a wildlife photographer, conservationist and tech wizard. Her majestic captures of leopards in Yala are a testament to these beautiful creatures and also the environment they are found in. She comes from a multidisciplinary education background in management, law, and information technology and she now works at Google as an app developer.
She tells the story of the headline photograph ~ "The leopard on the tree was an exclusive sighting I had for over an hour ! ( yes, it's a HUGE tree). There was another leopard hiding in a much smaller bush about 10 meters away from the tree. Both leopards were eating off a carcass which was under this bush when a sounder of wild boars came and started attacking them. One leopard, Jane, who got a head start climbed the tree while the other, Jessie, ended up in the bush. One of the best sightings I've had!"
Please share a bit about your career path
I was very passionate about studying medicine but ended up in the field of IT. At the age of 23, I was working in Media with the production crew for Who Wants to Be a Millionaire? at MTV. A literal "Lights-Camera-Action!" moment in my life where I remember falling in love with the process of creating something with cameras!
After that I joined an IT company and got completely immersed in the world of Tech, ending up at in my ultimate dream job at Google. Photography is a hobby that has been with me from the time I was a teenager and throughout my life.
What inspired you to become a photographer?
I've always been fascinated by photography. It's amazing to see the world through a lens. I remember owning a small digital camera in 2008 and taking pictures of everything under the sun: flowers, birds, and friends. Thanks to technology, mobile phone photography made it easy for my hobby to evolve. I stuck with it for years until I finally got my first real camera and lens in my mid-twenties.
Wildlife photography wasn't always my goal, but frequent visits to national parks in Sri Lanka with my father and family during school holidays sparked my interest. I was also obsessed with Animal Planet and Discovery Channel as a kid, and I'm sure that influenced me as well.
Tell us about your career highlight to date?
One of my own photographs being displayed on a massive digital screen across the Google Campus was definitely a very humbling moment.
Any funny or silly moments you have experienced?
Too many moments! Being in the wild can be so freeing and wholesome! I would always call Yala National Park my second home and whenever we stay inside the jungle, my friends would call me the "elephant whisperer" as an elephant would almost always turn up right outside the bungalow!!
I wouldn't call this funny but another time, being chased by a Tusker named Sando in Yala National Park - a moment I will definitely never forget and one that still haunts me up to this day.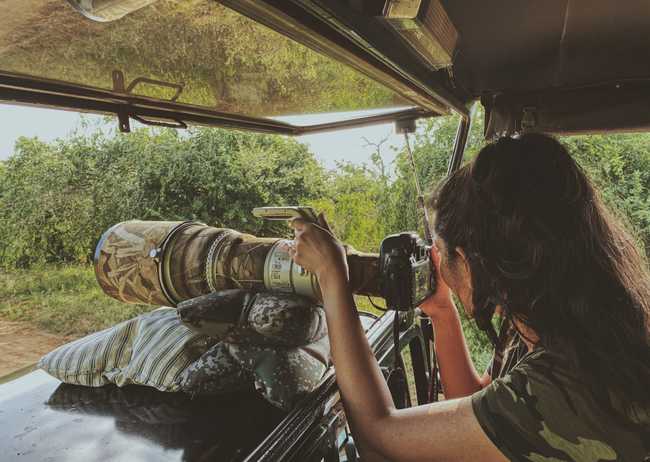 What inequalities do you see in your work?
Photography is a field where men are still clearly in the majority, with a significant lack of equality in terms of who is commissioned, exhibited, and published. I believe female photographers would be talked down to, belittled or made to feel uncomfortable by their male counterparts.
While it is true that photography remains male-dominated globally, I have to mention that Sri Lanka is a notable exception, with a significant number of female wildlife photographers who are highly respected and supported by their male counterparts.

Tell us about any sustainability and charitable initiatives you are involved in?
Helping the livelihood of the drivers in Yala National Park during hard times such as when Covid hit and all parks were closed in Sri Lanka. Together with a group of friends we managed to raise enough funds to help 200 families in Tissamaharama, Sri Lanka.
In addition to being wildlife photographer, I am also passionate about raising awareness of the critical importance of conserving and protecting Sri Lanka's forests and wildlife.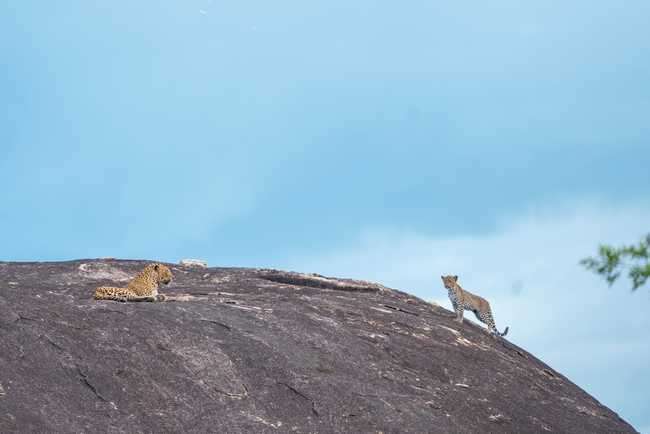 What is your passion within your field and what motivates you?
Photographers use their keen vision to create images that evoke emotions and moods in viewers. It's a powerful art form that can both stir the heart and engage the eye. Each photographer has their own unique source of inspiration and my motivation lies in inviting viewers to connect with my work by telling stories.
I believe in the power of subtlety to capture the viewer's attention and tell a unique story. I am also drawn to unique habitats of these amazing animals, and I strive to capture the essence of these habitats in my images.

How can we create change and see more DEI (diversity, equity and inclusion) in the world?
It is important to remember that DEI is not just about representation. It is also about creating a more equitable and inclusive environment for photographers of all backgrounds. This means challenging stereotypes, promoting understanding and acceptance, and creating a space where everyone feels welcome and respected. As photographers, we have a unique opportunity to use our work to make a difference in the world. We can use our photographs to tell stories, challenge the status quo, and promote DEI.
By doing so, we can help to create a more just and equitable world for everyone.
Why do you think there is a shortage of female Sri Lankan women on public platforms?
Women are often stereotyped and this can make it difficult for them to feel confident and comfortable participating in public life.
Women in Sri Lanka often have fewer opportunities than men to participate in public life due to a number of factors, including social norms, economic inequality, and lack of access to education and training. There are relatively few female Sri Lankan role models in public life. This can make it difficult for young women to see themselves as leaders and to aspire to participate in public life.
Despite these challenges, there are a growing number of Sri Lankan women who are breaking down barriers and participating in public life. These women are inspiring others and showing that it is possible for women to succeed in any field.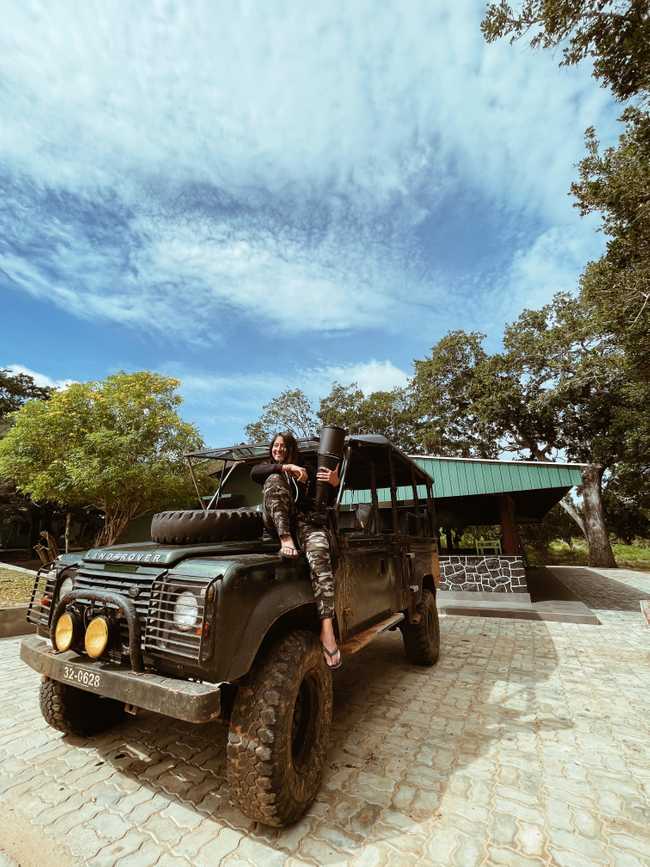 What advice would you give to youngsters who want to follow in your footsteps?
Don't let anyone or anything stop you from going after your passion. I live by the motto of fall seven times, stand up eight- So Just go for it!
Be passionate; the most important thing is to have a genuine passion for the field of photography you're interested in. Speaking on wildlife, this passion will drive you to learn more about the animals you photograph and to work hard to capture their unique beauty.
Learn the basics; Even though wildlife photography is a specialized field, it is important to have a good understanding of the basics of photography. This includes understanding things like exposure, composition, and lighting. There are many resources available online and in libraries that can teach you the basics of photography.
Find a mentor; If you can, find a mentor who is a professional wildlife photographer. A mentor can provide you with guidance and support as you learn and develop your skills.
Patience and persistence; Wildlife photography can be challenging, but it is also very rewarding. It takes time and patience to learn how to capture great wildlife photographs. Don't get discouraged if you don't see results immediately. Just keep practicing and learning, and eventually you will achieve your goals.
Support other female wildlife photographers: There is a growing community of female wildlife photographers. Support each other and lift each other up.
I hope this helps you to capture a moment ☺
How do you want to use your voice to create change?
I truly believe that photographs are the universal language of our era! Photographers have the magical ability to let time stand still in their captures and bring attention to the things that we miss in our everyday lives while holding a moment in history for future generations! Hence using photography to tell stories about the importance of conservation and help to raise awareness of the threats facing wildlife and the need for action.
Creating a more inclusive and supportive environment to supporting other female wildlife photographers, mentoring young women and promoting each other's work to break the gender bias.
Which female Sri Lankan inspires you?
I absolutely love being inspired by Sri Lankan females as they prove you can do anything despite being from a small island country and I just cannot choose 1!
~ In the field of photography, I look up to Buddhilini De Soyza, award winning wildlife photographer!
~ Conservationist and marine biologist Asha de Vos and Kasturi Chellaraja the first female Group CEO of a public quoted conglomerate in Sri Lanka.