Dan Sefton is a TV drama and comedy writer well known for his own series The Good Karma Hospital and Delicious. He also wrote Trust Me a fantastic, darker story about a Nurse who pretends to be a Doctor by stealing somebody else's identity …does she get away with it? Dan has also been a guest writer on Death in Paradise and Mr. Selfridge.
We were absolutely delighted to host Dan and his family in September of last year, while he was out in Sri Lanka to film the latest series of The Good Karma Hospital.
Dan has successfully juggled his prolific writing career with being an A&E doctor for many years, and as it is Galle Literary Festival 2019 next week, his guest blog is a wonderful, timely start to our series of write-ups this year.
Writers and story tellers – what a hugely talented bunch. To think up a storyline and keep the audience engaged is challenge enough, but to keep doing it and also manage a home life with the usual daily activities demanded by a family is mind blowing.
Here Dan kindly gives us a little glimpse into his writing life.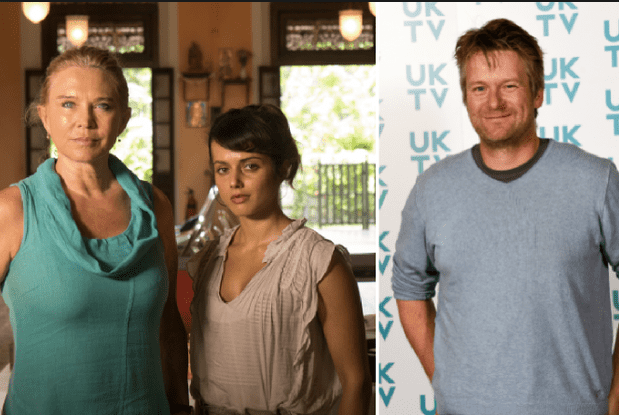 Radio Times Image
I stayed at Kalukanda House on my third visit to Sri Lanka. These were work trips (officially), but this time rather than opting for a soulless hotel, I wanted somewhere that felt like home. What I got instead was far better – somewhere that felt like someone else's home, however that someone had far better taste than me, had thought of everything you could possibly need and quietly provided it. So basically, perfection.
I've been writing my TV series – The Good Karma Hospital – for the last three years. The latest trip coincided with the shoot so there was, as ever, tension in the air. Scripts needed to be rewritten and I was the man who had to do it. Time was tight and without the scripts, no-one can work. TV seems to work in a state of permanent crisis and this was no exception.
I like the pressure but I usually have the reassurances of home to keep me from cracking up. Could I work here? It seems I could. A desk in the large lounge area, some noise cancelling headphones and an endless supply of tea turns out to be all any writer really needs, apart from inspiration. My surrounding provided all the inspiration I could wish for. The work got done, today's crisis was averted until tomorrow brings a new one. And repeat.
My family stayed with me too. Three teenage girls had exactly what they needed – a working Netflix account and decent wifi. But the lure of the pool finally proved too much and then they never left it. However I think that knowing that the internet was still close by and functional provided them with all the reassurance a millennial needs to truly relax.
Kalukanda House is private and secluded, ideal for someone who needed to escape from the pressure of writing a TV series. It's also close to the real Sri Lanka, within walking distance of an incredible café serving delicious food and cold beer to tourists and locals. You can also tuk tuk your way to cocktails and surfing if you want. But what appealed to me after many weeks spent in echoing hotels is that it's within a community, not swamped in piped music and buried in a resort.
This feels like a family home from home (which is what it is) that you have been invited to share. I can't wait to go back someday.
(Photos taken on set)