Behind the Covid 19 mask
Our amazing NHS are quite rightly getting all the support and praise they have deserved for so long. It is a pity it took Covid19 for us to sit up and take note, but at least we are now. The "frontline" who put themselves in harm's way every day to save the sick, are finally getting some public recognition.
Our April guests have had to postpone their holidays due to Covid19 and one of the families, both doctors, were called into work even before Boris Johnson decreed the lockdown status and flights were cancelled. Duty before fun.
But behind those masks and scrubs have you ever stopped to wonder who they are as human beings? What myriad of other skills do they have that we don't think about?
In this post we get a little insight into the life of Dan Sefton, an A&E doctor who for years has juggled another prolific career as a TV drama writer. He is well known for his own series The Good Karma Hospital and Delicious (Dawn French and Emilia Fox)
He also wrote Trust Me a fantastic, darker story about a Nurse who pretends to be a Doctor by stealing somebody else's identity (played by Jodie Whittaker) …does she get away with it?
Kalukanda House were absolutely delighted to host Dan and his family twice in 2018, while he was out in Sri Lanka to film The Good Karma Hospital (currently being aired on Sunday nights).
Dan kindly gave us a little glimpse into his writing life and what it's like to be writing and filming on set.
But first, an Easter 2020 book recommendation that had me skiving off work, waking early and going to bed late to find out what happened.
A book recommendations
Escaping into a good story is one of the best treats. When a story is written so well that you know if it was put on screen it just would never meet expectations - those are rare finds. It's one of the reasons we take stories away on holiday with us, a chance to keep on escaping.
'This is Going to Hurt' by Adam Kaye is a real life account of his time as a junior doctor - it isn't a flattering account of the system but he is very funny, and the anecdotes and stories are selected to balance humour and gravitas around his disillusionment. He is really passionate about his colleagues, and this is a delve and insight into his experiences in the NHS and his life.
'A Ladder to the Sky' by John Boyne is a fictional story that is laugh out loud funny and utterly horrifying all at once. It is about a handsome, ambitious and ruthless young man who is a would be novelist called Maurice Swift. He is so dedicated to becoming a famous author that he doesn't care where he finds his stories, even if they are not his own. The book spans his lifetime and is fast paced, shocking and I could not put it down.
This book makes you realise just how hard it is to think up and write a great story - there is far more to it than we could imagine.
Dan Sefton knows how to write a good story.
His work is varied and popular and The Good Karma Hospital is repeatedly commissioned. Filmed just down the road from Kalukanda House, we were lucky enough to go on set one day, It was amazing to see the beautiful building we had seen on screen in London and often tuk tuk'd past in Sri Lanka, converted into the hospital and to watch the opening scenes being meticulously crafted, with all our favourite characters patiently waiting in searing heat to act out their scenes.
I will never again under-estimate the time and skill that goes into making something for screen that is good.
....and next time you look at someone in scrubs, you might just see them in a different light altogether.....
Over to Dan...
I stayed at Kalukanda House on my third visit to Sri Lanka. These were work trips (officially), but this time rather than opting for a soulless hotel, I wanted somewhere that felt like home. What I got instead was far better – somewhere that felt like someone else's home, however that someone had far better taste than me, had thought of everything you could possibly need and quietly provided it. So basically, perfection.
I've been writing my TV series – The Good Karma Hospital – for the last three years. The latest trip coincided with the shoot so there was, as ever, tension in the air. Scripts needed to be rewritten and I was the man who had to do it. Time was tight and without the scripts, no-one can work. TV seems to work in a state of permanent crisis and this was no exception.
I like the pressure but I usually have the reassurances of home to keep me from cracking up. Could I work here? It seems I could. A desk in the large lounge area, some noise cancelling headphones and an endless supply of tea turns out to be all any writer really needs, apart from inspiration. My surrounding provided all the inspiration I could wish for. The work got done, today's crisis was averted until tomorrow brings a new one. And repeat.
My family stayed with me too. Three teenage girls had exactly what they needed – a working Netflix account and decent wifi. But the lure of the pool finally proved too much and then they never left it. However I think that knowing that the internet was still close by and functional provided them with all the reassurance a millennial needs to truly relax.
Kalukanda House is private and secluded, ideal for someone who needed to escape from the pressure of writing a TV series. It's also close to the real Sri Lanka, within walking distance of an incredible café serving delicious food and cold beer to tourists and locals. You can also tuk tuk your way to cocktails and surfing if you want. But what appealed to me after many weeks spent in echoing hotels is that it's within a community, not swamped in piped music and buried in a resort.
This feels like a family home from home (which is what it is) that you have been invited to share. I can't wait to go back someday.
(Photos taken on set)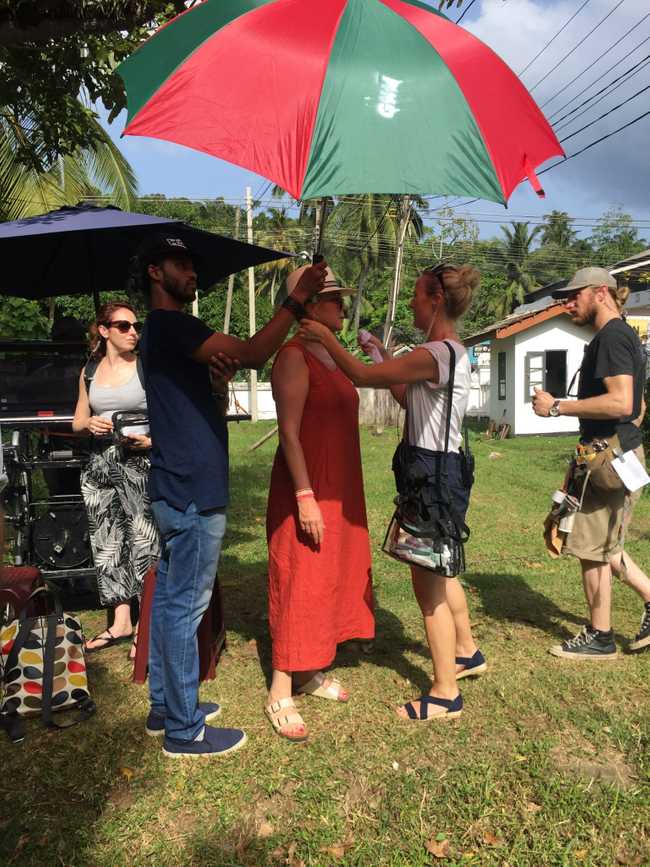 photo credits to: ani kolleshi, link-hoang, markus winkler